Cleanroom Pass Through Windows
Pass-through cabinets, also called pass-through chambers pass through boxes, and pass-through windows allow for the transfer of parts and equipment into and out of a cleanroom.
These specialized entry systems reduce the need for people to enter your cleanroom, and, thanks to lower traffic within the cleanroom, contamination is significantly reduced.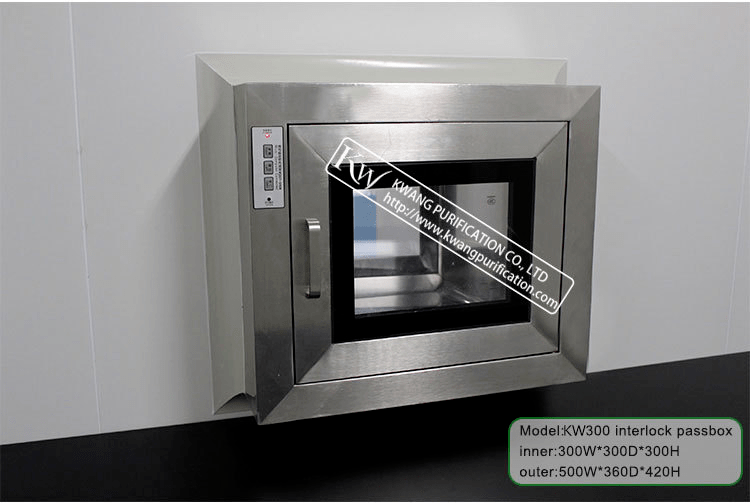 Custom and Standard Pass Through Cabinets
Kwang offers standard and custom pass-throughs as well as a variety of other cleanroom equipment to meet your needs. Our pass-through cabinets feature stainless steel construction—not the particle board or plastics that other manufacturers use.
Buying Pass Through with Kwang
Our pass through windows are available in both same day purchase and request for quote options. Our same day purchase pass through windows are manufactured with 304 stainless steel and feature a unique double-wall construction, which encases and protects the mechanical interlock of the cabinet. Clean Air Products' same day purchase pass throughs are convenient, easy to install, and provide the following beneficial features:
Double-Wall Construction
No Lip Design
Flush-Mounted Access Panels
Silicone Bulb Gaskets
Rugged, Stainless Steel Construction
Our stainless steel, wall mounted pass throughs can be purchased directly through our secure web portal, providing the cleanroom pass through protection your products require.
Adding a pass-through to your cleanroom provides an easy and efficient way to transfer materials and equipment into the cleanroom. Pass-throughs help to eliminate the volume of unnecessary traffic through the cleanroom, reducing cross-contamination and maintaining the positive pressure of the cleanroom. Kwang Clean provides cleanroom pass-through windows constructed of solid stainless steel and are designed for long-lasting durability, with easy cleaning and high-quality appearance in mind.
Stainless Steel Pass through Windows
Our stainless steel pass-through chambers are constructed with a welded stainless steel shell and unique double-wall construction that encloses and protects the mechanical interlock. This double wall also creates a lipless, flush floor for easy material transfer and cleaning. These wall-mounted pass-through cabinets are extremely strong and durable, are easy to clean, and provide superior aesthetics for your cleanroom or pharmacy. Except for the viewing windows, these pass-through chambers are made entirely of metal.
All of our cleanroom pass-through cabinets feature doors with heavy-duty stainless steel frames, stainless steel continuous hinges, tempered safety glass windows, silicone bulb gaskets, and stainless steel over-center compression latches. Stainless steel door frames add strength and prevent long-term warpage and cracking, a common problem with all-plastic doors.
Our wall mounted pass-through cabinets are available with mechanical interlocks to prevent both doors from being opened at the same time. This helps prevent cleanroom depressurization and contaminant infiltration.
Features of Our Standard Cleanroom Pass Through Box
304 Stainless steel main cabinet
304 Stainless steel door frames
Stainless steel continuous hinges
Tempered safety glass viewing windows
Silicone bulb door gaskets
Stainless steel over-center compression latches
Mechanical door interlock with 316 stainless steel T-handles
Universal stainless steel mounting frames
Stainless steel hardwareWe have a large selection of cleanroom equipment, including cleanroom pass throughs. In addition, we also have cleanroom containment hoods, cleanroom fume hoods, laminar flow hoods, cleanroom air showers, environmental monitoring systems, and particle counters. If you can't find what you're looking for, please use the search box above, or call us, and we'll be happy to help!