Basic Information To The Clean Room
Clean room concept refers to the general concept of clean rooms, their definition and application in various industries. Kwang has been involved in Clean room for at least two decades, so our experience in this field is vast and extensive. In this article we wanted to introduce the general concept of clean rooms their definition, application, in order to give basic information to the Clean room first-timers.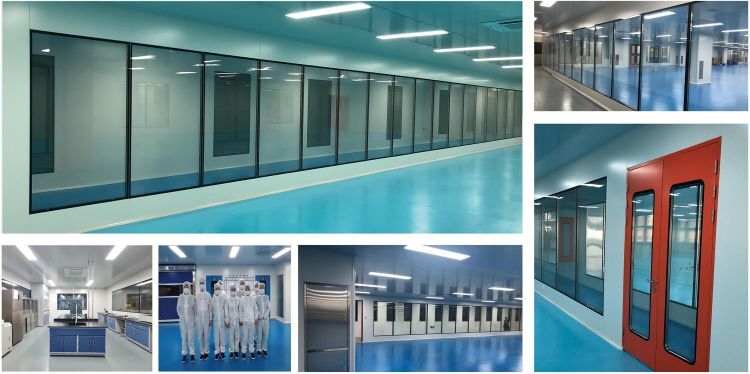 Clean room concept overview – what is a clean room environment
In plain language, a Clean room is a very clean place within a production plant/ hospital/ laboratory, conforming to the special hygienic and other standards, where certain activities take place. These activities often include sensitive material that needs to be handled. What is a Clean room used for? Whether we are talking about measuring active substances for the pharmaceutical industry, manoeuvring biohazard material in laboratories, or production of semiconductors and microchips, there are designated spaces for special procedures, that classify as clean rooms.
The formal definition indicates that the Clean room is the environment with a limited number of microparticles of whatever origin, with classes ranging from ISO Class 9, the one being as clean as our living room, to ISO Class 1, being the cleanest possible one, with as little as 12 particles <0.3 μm per cubic meter.
Where are cleanrooms used?
Cleanrooms are related to specialized industries, such as pharmaceutical, healthcare/ biotech, semiconductor, research/ laboratories, microchip, photovoltaic etc. -any branch where strictly controlled production/handling activities are a prerequisite to the product/ service delivery. Depending on the type of product, it is possible to have different classes of cleanliness required even within the same industry (ex: the production of infusion tubes and accessories for medical care can be different from the production of medicines/ drugs where cross-contamination of active substances is to be avoided at any cost).
Industrial clean room
Some industries have Clean room requirements as a part of their production processes. Production of semiconductors, microchips, solar panels, rechargeable batteries, LED, LCD and OLED displays, optics, military-related appliances etc. require special production conditions. As a reference, please observe the production plant of Photon Optronics, the production plant of optical components.
Clean rooms in pharmaceutical industry
Clean room standards for the pharmaceutical industry is not different than Clean room application in other industries: in the pharmaceutical environment, clean rooms are spaces for laboratories as a part of the quality control procedures and Research & Development, as well as for production processes such as the production of infusions, of solid forms, granulation rooms (where active materials are being measured, with strict control of cross-contamination). Working in three shifts and occupation of the rooms 24/7 is very demanding for the staff and maintenance, as all the installed equipment must work for a maximum time without the necessity for any interruption other than cleaning. This is why the clean rooms in the pharmaceutical industry opt for the highest quality of equipment since the holdups in production are very costly.
Clean room requirements for food industry
Food industry requires HACCP standards as international regulations, or compliance with specific food manipulation processes (gluten free, nut free, Halal, vegan, vegetarian, kosher). This industry doesn't require Clean room standards as a part of mandatory procedures. However, some companies voluntarily go for this solution, getting more control over the production processes and getting considerable marketing advantage.
As we have demonstrated, there are many applications of clean rooms, and many different aspects of clean room to take in consideration.
There are many professionals in this field, and we are happy that we have very good cooperation with some of them. If you need the whole clean room for your hospital/ production/ laboratory, please contact us, we will gladly recommend the best professionals. For clean room, of course, we will be happy to assist.