Electronic Cleanrooms are controlled spaces designed to keep out air contaminants of a certain level Cleanrooms are typically used to reduce the pollution from unfiltered air in the manufacturing of products like pharmaceuticals, microprocessors, E-liquids, as well as food products.
Such contaminants as Chemical vapours, aerosol particles, fibrous materials and microorganisms are but a small example of which contaminants can be harmful to production and research. Our Electronic Modular Cleanrooms are designed to conform to the international organisation for standardisation (ISO) 14644-1: 2015.
Electronic Modular Cleanrooms built to the ISO 14644-1:2015 specification, are classed from 1 to 9. Classifications are set depending on the level of pollutants the cleanroom maintains as well as their sizes. The highest classification of Electronic Dust Free Cleanrooms of this standard (Class 1) will be valued based on the smallest range of pollutants entering the clean air environment and lowest frequency whereas the Class 9 category of Cleanrooms, which represents the minimum classification, will be valued based on having a higher frequency and much larger contaminants entering the cleanroom.
Particle counters are used to gauge the Particles Per Cubic Metre (PPCMM) of Electronic Modular Cleanrooms to determine their classification. For ISO Class 9 Cleanrooms, the removal of air pollutants of sizes >5 microns are analysed for in an environment that is typically equivalent to the air of suburbs.
A Class 1 Cleanroom will be designed to filter out much smaller air pollutants >0.2 and >0.1 which makes it the cleanest air enclosure in the classification range. Here is an example of this kind of testing requirement.
A Class 7 Cleanroom will be tested for a particulate size of > 0.5 microns with a maximum particle count of 352,000. If this test exceeds the maximum number, the Electronic Dust Free Cleanroom will need to be modified and retested to meet the classification.
Class 100,000 electronic clean room
Clean area: 5850m² (sqm)
Project Introduction:
Kwang constructed Samsung Electronics (Bangladesh) electronic clean room renovation project, electronic workshop clean level covers 100,000 to 10,000 levels. Including: clean workshop drawing design engineering, plumbing and electrical installation engineering, ventilation and purification engineering, the United States Trane constant temperature and humidity air conditioning installation engineering, PVC anti-static flooring engineering, automatic control system engineering and purification supporting equipment installation, testing and commissioning comprehensive services, and finally obtain the customer's successful acceptance.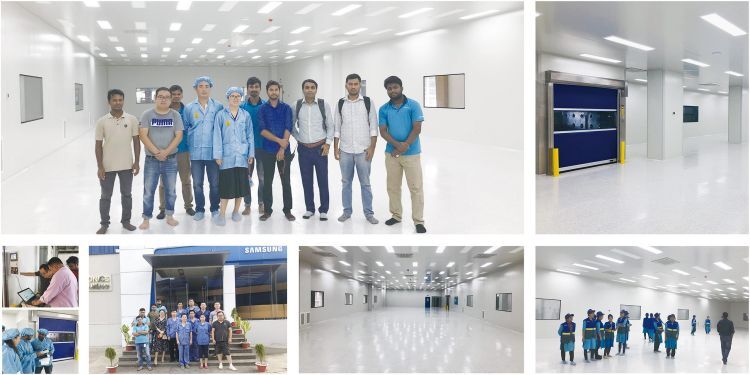 Contamination-Free Manufacturing
The use of HEPA/ULPA filtering technology is employed to achieve the level of clean air quality in Electronic Modular Cleanrooms. These filters are scientifically proven to reduce the size and quantity of air particulates entering a cleanroom. Contaminated air goes through Filter Fan Units (FFUs), ensuring there's positive pressure in the Cleanroom. It is this positive pressure that sustains the clean air conditions preventing the backflow of contaminated air into the Clean air space through exhaust openings.
The type of Electronic Dust Free Cleanroom aforementioned assures that only air that has passed through the filtration unit enters the internal area allowing for contamination-free production.
Leave Your Message