Cleanroom Requirements And Classifications
Cleanrooms are essential to any manufacturing process where particulate contamination can affect the quality of goods produced. Specific clean room classifications and ISO class code descriptions provide protective guidelines and secure environments through controlled air filtration, which lowers the possibility of product contamination or large particulate interference within critical process manufacturing. Specific cleanroom requirements and ISO 14644-1 cleanroom standards are used to protect consumers from any potential flaw or mishandling of a product.
Additionally clean room classifications require that positive pressure is continuously maintained while the cleanroom is operational. This process prevents contaminated air from flowing back within the clean air environment. This process allows clean filtered air to continuously flows from clean to less-clean spaces, allowing for continual air movement.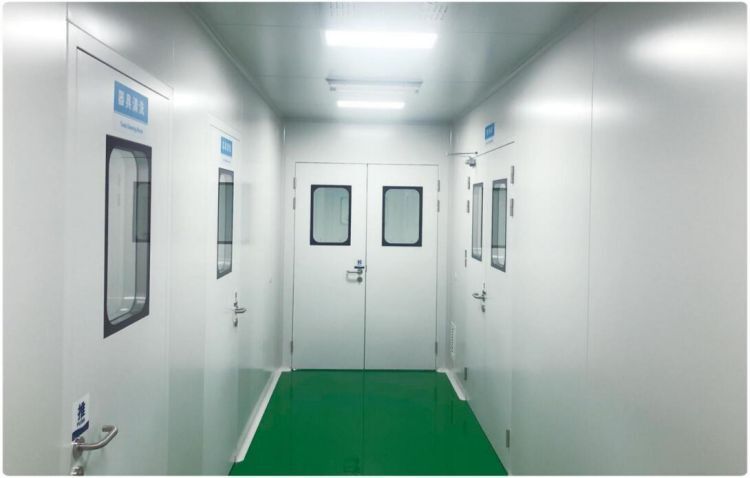 Cleanroom Industry Requirements & Classifications
Cleanroom requirements and standards are classified according to the number and size of particles permitted per volume of air in a specific amount of time. Clean Air Products engineers can provide guidelines and ISO class code descriptions for the class of cleanroom required for your specific application. Typically, businesses and organizations are aware of their cleanroom performance requirements because of customer, industry or government specifications. For example, government regulation USP 797 outlines specific requirements for pharmaceutical product manufacturing.
Clean room industry requirements are classified according to ISO 14644-1 cleanroom standards, which specifies basic requirements for cleanroom operations.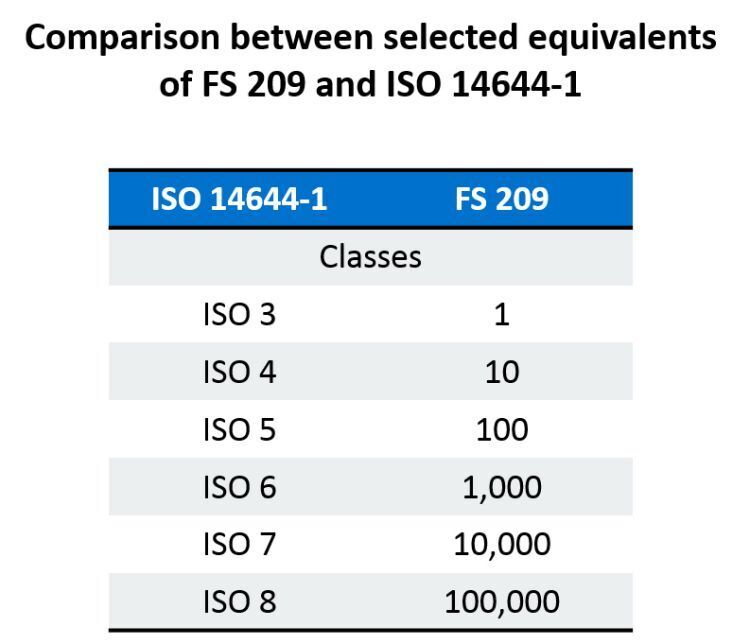 ISO clean room classifications are rated according to how much of a particulate of a specific size exists per cubic meter, within a given enclosure. Clean room classifications are based on an eight class rating system, with an ISO class 1 cleanroom being rated the most particle-free and ISO class 8 allowing the most particles. This cleanroom standard rating system provides the necessary information to make an informed decision based on your product needs. Most clean rooms fall into the class 6,7, or 8 categories.
Clean Room Classifications & Requirements for a Broad Range of Industries
Proper cleanroom requirements and standards are maintained throughout all industries that require the use of a cleanroom. Some of the industries that benefit the most from clean room classifications and ISO class code descriptions, include:
Food processing
Medical device manufacturing
Computer manufacturing
Computer server holding
Military & aerospace research
Life sciences
Cleanroom Requirements & Standards
A cleanroom's performance requirements identify the cleanroom class level required at a given state or condition. There are three levels of condition (states) for testing and characterizing the performance of cleanrooms: as-built, at rest and operational. Specific test methods for these three classifications are outlined in 14644-3:2005.
Clean Room Classifications for As-Built Systems
Most cleanrooms are rated and sold in the as-built category, which is categorized as an empty room with the filter system running, but without workers and production equipment. However, adding workers and equipment will introduce contamination and affect the room rating. A clean room may be rated ISO 6 at rest, but at ISO 7 during operation. To comply with performance requirements, the as-built empty room should be tested and benchmarked, followed by testing and documentation of the at-rest and operational states. If contamination in the at-rest or operational states is not in compliance, corrective steps need to be taken. These steps can range from examining the production process and number of workers in the cleanroom, to testing the room's air flow performance.
In addition, cleanroom air flow performance can be cost-effectively upgraded by adding fan filter modules (FFM). For example, FFMs cover approximately 5-15% of an ISO class 8 cleanroom requirements for ceilings. Upgrading to an ISO 7 cleanroom requires 15-25% ceiling coverage and covering 25-40% of the ceiling changes the room to an ISO 6 Class.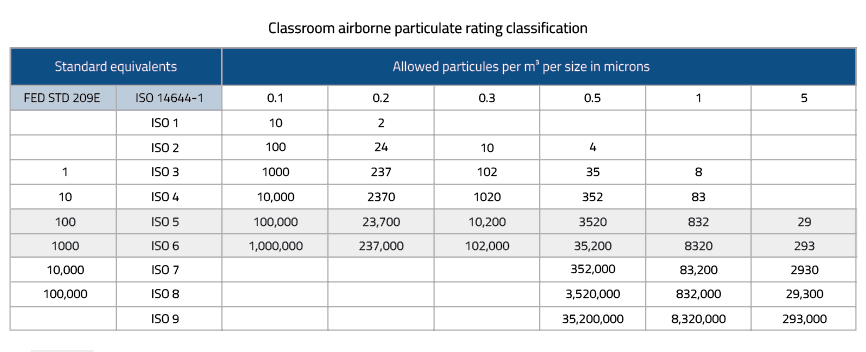 Cleanroom ISO Class Code Descriptions
Determining the correct cleanroom standards for a new product or business requires balancing many aspects. These can include process requirements, cost, performance and construction. Clean Air Products staff members work hands-on with you to review the basics of selection, and all applicable clean room industry requirements. Clean Air Products provides cleanrooms by ISO class, as well as additional cleanroom accessories to guarantee superior air quality and particle filtering. The following clean room classifications provide the recommended air changes per hour, per class of cleanroom:
ISO Class 1 - The "cleanest" cleanroom is ISO 1, used in industries such as life sciences and electronics that require nanotechnology or ultra-fine particulate processing. The recommended air changes per hour for an ISO class 1 clean room is 500-750, and the ceiling coverage should be 80–100%.
ISO Class 2 - 500-750 air changes per hour, with a ceiling coverage of 80-100%.
ISO Class 3 - 500-750 air changes per hour, with a ceiling coverage of 60-100%.
ISO Class 4 - 400-750 air changes per hour, with a ceiling coverage of 50-90%.
ISO Class 5 - 240-600 air changes per hour, with a ceiling coverage of 35-70%.
ISO Class 6 - 150-240 air changes per hour, with a ceiling coverage of 25-40%.
ISO Class 7 - 60-150 air changes per hour, with a ceiling coverage of 15-25%.
ISO Class 8 - 5-60 air changes per hour, with a ceiling coverage of 5-15%.