Steel or aluminum extrusion cleanroom wall panels provide heat, insulation, and safety features when designed in multiple, partitioned layers. Materials and favorable performance ratings vary with application needs. A thicker, self-supporting wall profile integrates more easily within existing walls, suspended ceilings, or utility structures.
High R-Value provides energy savings: the higher the R-value, the greater the insulating effectiveness.

Superior fire protection when opting for flame retardant gypsum and clean-friendly vinyl surface layer.

Load-bearing cleanroom walls grant design freedom for installation and hot-swapping of mechanical components, T-grid lighting, or roof mounted equipment such as industrial HVAC systems.

Up to 24' wall panel heights possible with available 4⅝" wall panels.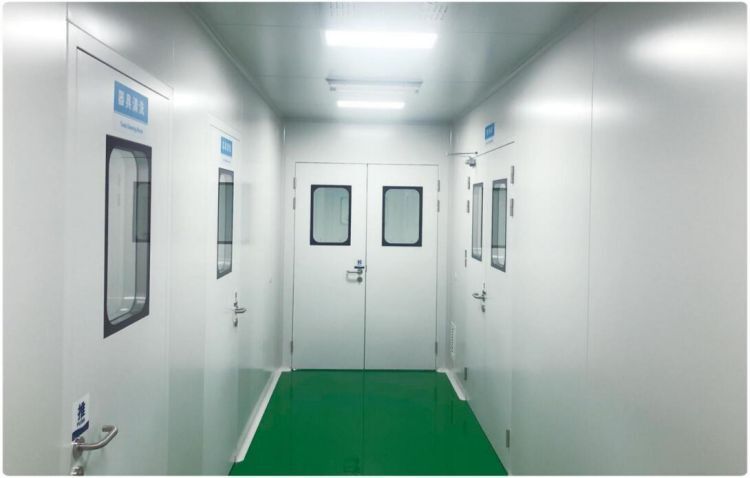 Panel Surface Materials: Panel surface options include vinyl, high pressure laminates (HPL), fiberglass reinforced plastic (FRP), poly-vinyl chloride (PVC), aluminum, and steel. Aluminum and steel can be finished with a variety of paint including baked conductive and non-conductive epoxy, polyester, and acrylic.
Panel Cores: Panel cores options include aluminum honeycomb, paper honeycomb, polystyrene, gypsum and isocyanate and others based on project requirements.
Common Sandwich-Style Cleanroom Wall Panel Designs
Fire & Sound Cleanroom Wall Panel
Fire & Sound Cleanroom Wall Panel have proven to be a cost-effective option for many cleanroom applications. An outer gypsum layer helps it achieve a Class A non-combustible rating, over a polystyrene core, with vinyl, steel, aluminum, or FRP surfaces.
Aluminum Honeycomb Panels
Aluminum honeycomb panels tend to be the most popular wall panels chosen for microelectronics cleanrooms because of they are non-outgassing, non-particle shedding, and anti-static as well as lightweight and non-combustible.
Fiberglass Reinforced Plastic
Fiberglass Reinforced Plastic (FRP) Wall Panels are ideal for any cleanroom that will be exposed to moisture or require extensive cleaning with harsh chemicals. Typical applications include laboratories, pharmaceutical cleanrooms, and environments subject to FDA regulations.
Specialty Cleanroom Wall Panels
Alternate surfaces and cores are available to meet the requirements of any type of cleanroom application. Surfaces offered include melamine, vinyl, painted steel, stainless steel, Fiberglas™ reinforced plastic (FRP), polyvinyl chloride (PVC), high pressure laminates, and porcelainized steel. Panel cores are available in expanded polystyrene, paper honeycomb, aluminum honeycomb, gypsum, isocyanurate, and mineral wool.
Insert-Style Cleanroom Wall Panels
Extruded aluminum frames with thin panel insert slots provide adjustable channels that accommodate insert materials ranging in thickness from 1/8" to 3/8". Pre-engineered components built into the extrusions enable integrated features such as gasket seals. The insert panels are made of lightweight materials, and are easy to assemble without the use of tools, which can simplify the process of altering or remodeling a cleanroom.
Insert-style panels are a lower-cost alternative to sandwich style wall panels, particularly when considering the use of 1/4" thick clear polycarbonate viewing panels in place of traditional windows. Additionally, pre-assembled 4' x 8' wall panels can be shipped on a pallet and simply latched together to form an enclosure.
Kwang Purification is a leading manufacturer of clean room products, we can provide you one stop solution for all your requirements about clean room. If any question or requirement, feel free to contact me, I will try my best to offer you good advice and solution.