Cleanroom HVAC Requirements
Just as different cleanrooms have different requirements for class specifications, HVAC systems are not one-size-fits-all. Your cleanroom HVAC system might even have to be reconfigured to best suit the needs of your facility.

If your cleanroom is the body that enables you to manufacture, test or create your products, the HVAC system is its lungs. When functioning efficiently, a cleanroom can control down to a minute detail the temperature, pressure, humidity, particles, and levels of contamination of its contents. To do this, the cleanroom must be able to change its air and filter particulates. If the cleanroom is unable to do this, it is essentially left breathless.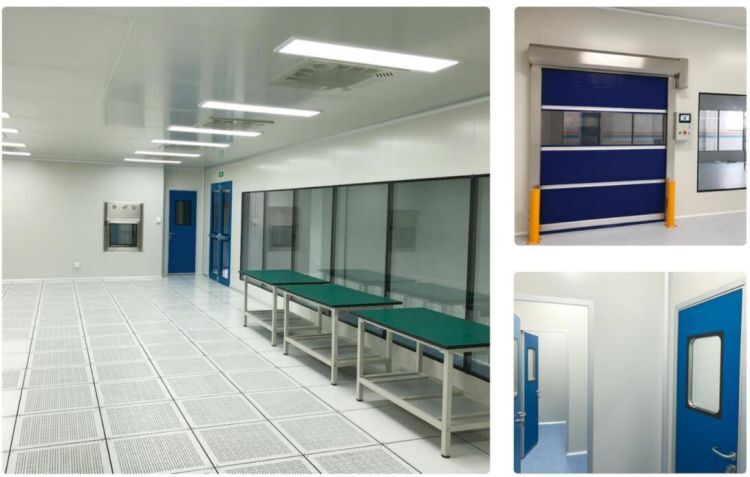 The process of changing air can happen from 10 to more than 600 times per hour. The less "clean" the room has to be, the less often the air will change. Conversely, the more stringent the cleanroom's standards, the more often the air will have to be changed per hour. This is referred to as air-change rate or ACR.
UNDERSTANDING CLEANROOM HVAC POWER LEVELS AND CAPABILITIES
HVAC systems differ in their power levels and capabilities. If your cleanroom has lower standards, it may not need a system with a high BTU (British thermal unit of heat required to raise temperature in a pound of water by one degree), and strictness in temperature regulation or relative humidity (rh) may not be necessary Cleanrooms that require exactness in these levels and extremely fine particulate filtration, however, may need the investment of a powerful HVAC system, one that is capable of maintaining a consistent and controlled environment for employees and their work.
Different industries have different requirements, and therefore different cleanroom HVAC needs. To help break this down, we've divided cleanroom users into three broad categories: Manufacturing, Pharmaceutical, and Laboratory. Of course, many exceptions exist.
MANUFACTURING CLEANROOM HVAC REQUIREMENTS
Cleanrooms used in manufacturing facilities are designed to meet a variety of standards, depending on the specific products they involve and the size of the particulates that need to be filtered. Most manufacturing cleanrooms meet ISO Classes 7 or 8, which translates to a maximum number of particles of .05μ or greater in the air ranging from 352,000 to 3,520,000. Since this type of facility does not typically depend on extreme control of temperature or a high ACR, they can be adequately maintained with the use of an HVAC system with an average to low BTU level.
PHARMACEUTICAL CLEANROOM HVAC REQUIREMENTS
Pharmaceutical cleanrooms will need much higher control over environmental variables and so will need a powerful HVAC system to help them achieve this. They will need to maintain a strict temperature range as set forth in all USP regulations in order to stabilize materials, meaning precise heating and cooling — especially if the cleanroom is located in a climate that experiences many temperature variations such as the Midwest. Pharmaceutical cleanrooms, on average, must comply with a minimum ISO 7 standard — Federal Standard 209 Class 10,000.
LABORATORY AND MEDICAL DEVICE CLEANROOM HVAC REQUIREMENTS
Laboratory work, especially the development and production of medical devices, requires an extremely controlled cleanroom environment that must comply with intensive standards. The majority of these types of cleanrooms comply with ISO 14644 standards. A powerful HVAC system with the necessary filters will restrict particulates in the environment to the acceptable level, maintaining the quality of the cleanroom's air. In this environment, the air will need to be changed with high consistency, removing any contaminants before they interfere with the integrity of the work.
Depending on the size of the particles that need to be filtered, the importance of temperature or humidity to your products and the ACR rate needed to keep your environment clean, your system capabilities will need to reflect the type of work conducted in your facility. With the proper cleanroom HVAC system working in tandem with your perfectly equipped cleanroom, you will have complete control over your space and the products developed within it. It's important to make sure your HVAC is able to filter and properly change the air of your cleanroom so it can breathe and function efficiently.
It's possible that your current HVAC system may not be up to the task of supporting your new cleanroom. That's where Kwang Cleanroom comes in. As expert cleanroom designers, we can help you determine what type of HVAC system you need, and help you make it happen, too.