Module Cleanroom Promotes Technology Leading And Upgrading
The module cleanroom industry is still in the initial stage of development in China, and the industry chain of module cleanrooms has just formed in China. The upstream is mainly composed of special materials and special equipment manufacturers including purification equipment; the midstream includes the design, construction, commissioning, test run of module cleanrooms; the downstream is microelectronics, optoelectronics, semiconductor, military industry, biomedicine, medical treatment and food Products and other industries using modular cleanrooms.
With the upgrading of China's industry and the transfer of production capacity of global fine processing enterprises, the industries of downstream customers such as electronics, semiconductor, optoelectronics, biopharmaceutical, medical and health care will have a rapid development. The research shows that the compound annual growth rate of modular cleanroom industry has reached 22.91%, and the market scale of modular cleanroom industry is expected to exceed 240 billion yuan in 2018.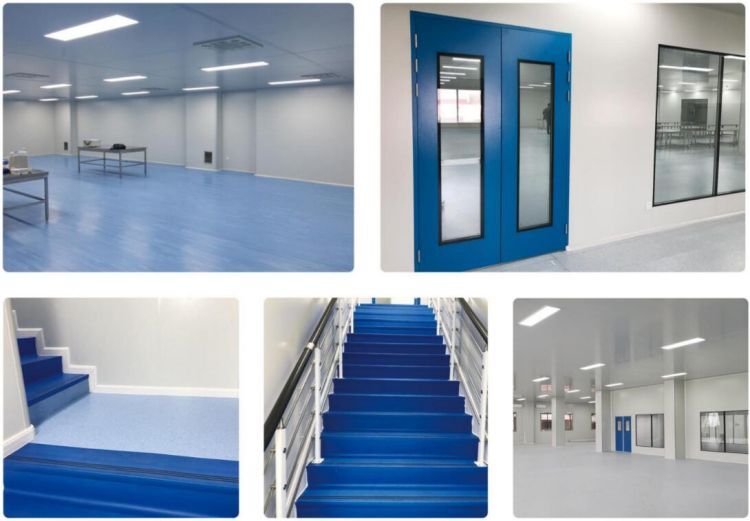 The existing modular cleanrooms are all implemented according to the traditional technology and construction mode, and there are great deficiencies: the materials cannot be standardized and industrialized mass production; the construction period is long; the construction safety is poor; the material repetition rate is low.
"Modular Clean Room" responds to the requirements of resource conservation and recycling. Through modular design and technological innovation, interference analysis technology, structure simulation technology and air flow simulation technology are introduced in the design stage to ensure stable performance, improve the recycling effect of clean decoration materials, equipment and accessories, effectively reduce production and practical energy consumption, and reduce investment risk. Through the application of modular design technology in modular cleanroom systems project, the electrical pipeline and accessories, pure water and pure gas pipeline and accessories, process pipeline, isolation equipment and materials are modularized to realize the engineering productization, the engineering construction of modular clean room is industrialized and the engineering construction is standardized.
The application of new process machinery and equipment in modular production will promote the extension of industrial chain in clean industry and the aggregation of modular parts industry. The application of modular cleanroom materials in the project will shorten the construction period of the clean engineering field by 20%, greatly improve the construction quality, further change the profit model of the industry, and promote the upgrading and development of related industries, which will promote the technological leadership and upgrading of the enterprise.
A normal clean room consists of components such as cleanroom wall panels、cleanroom doors、cleanroom windows、cleanroom ceilings、cleanroom equipments, Modular Clean Room will produce in different places and ship to the project site for final assembly. The installation can be completed in one day.