Pharmaceutical Laboratory Cleanroom
If you're a pharmaceutical laboratory, a contract research group, or similar organization, we have the laboratory cleanroom solution ideal for your requirements. We have numerous modular cleanroom options available, making it easy to create an ideal controlled environment in which to perform your pharmaceutical research studies, experiments, analysis, clinical trials, and laboratory testing.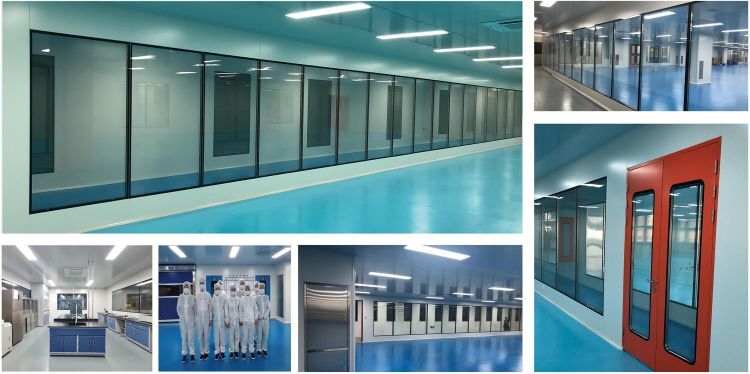 Laboratory Cleanroom Solutions
We has been designing and manufacturing modular cleanrooms for over 10 years to clients in a broad range of industries. With a variety of laboratory cleanroom solutions available, it's easy to find the right one for your unique needs.
Most pharmaceutical research labs vary between ISO Level 8 and ISO Level 5 areas, depending on the specific research criteria of your organization. We offer modular cleanroom solutions ranging from ISO Level 9 to ISO Level 4 to accommodate requirements above and beyond the norm and to meet your facility cleanliness standards.
Pharmaceutical Research Cleanroom Features
ISO-4 to ISO-9 cleanliness levels
HEPA or ULPA filtration
Temperature control
Humidity control
Monitoring systems
4" insulated walls
Re-circulating or single pass designs
Custom Modular Cleanroom Capabilities
We can customize your laboratory cleanroom to meet your exact requirements. We can incorporate gowning rooms, airlocks, air showers, material transfer enclosures, batch mixing areas, blending labs, and more into the modular cleanroom structure to ensure a complete solution is provided.
We offer numerous wall finishes that caters to different lab and research needs. Our standard vinyl wall finish, for example, is easy to clean, non-shedding, and ideal for most modular cleanrooms up to ISO-7. For other pharmaceutical applications, an FRP (fiberglass reinforced plastic) finish may be better, as it provides excellent chemical resistance for sterile wipe downs.
Other customizable features of our modular cleanrooms include:
Air filtration system
Lighting
Doors and entryways
Windows
Electrical
Ceiling grids/tiles
Flooring
HVAC and fire suppression systems
Guard rails
UV-safe options
And more
Benefits of a Laboratory Cleanroom
A modular laboratory cleanroom from us is less expensive than standard sheetrock construction, and can be installed, modified, and even relocated with minimal expense and downtime.
Your modular cleanroom will arrive factory-cut, with prewired UL-classified raceways that provide flush interior surfaces for electrical outlets, phone/data wiring, etc. These raceways can also serve as service chases to house compressed air, deionized water, or other necessary materials.
Our laboratory cleanroom systems feature 4" insulated walls which provide a thermal barrier that improves the efficiency and performance of the mechanical system. Temperature levels are far easier to maintain than in non-insulated cleanrooms resulting in reduced energy costs.
Kwang Cleanroom offers choices of modular cleanroom design, modular materials and equipment to clients based on the industry and purpose of the modular cleanroom. Kwang manufactures and integrates a wide variety of cleanroom components to help satisfy the requirements of your particular application: Modular Cleanroom Systems, Cleanroom Wall Panels, Cleanroom Doors, Cleanroom Windows, Cleanroom Ceilings, Cleanroom Equipments.